"Go big or stay home!" You've heard it and you're ready to take your success to the next level. How? Where's the game plan for BIG ideas and BIG success. Are you tired of making little achievable goals because the epic, grand vision, blue sky thinking goals are too lofty?
Only 3% of people set goals. Fear of failure holds most people back. But wouldn't you rather be the person who is brave enough to imagine possibilities at the expense of being occasionally disappointed? Someone thinking big and setting a big goal enabled the masses to enjoy electricity, light bulbs, cars, radios, airplanes, T.V., computers, cell phones, iPods……you get the picture.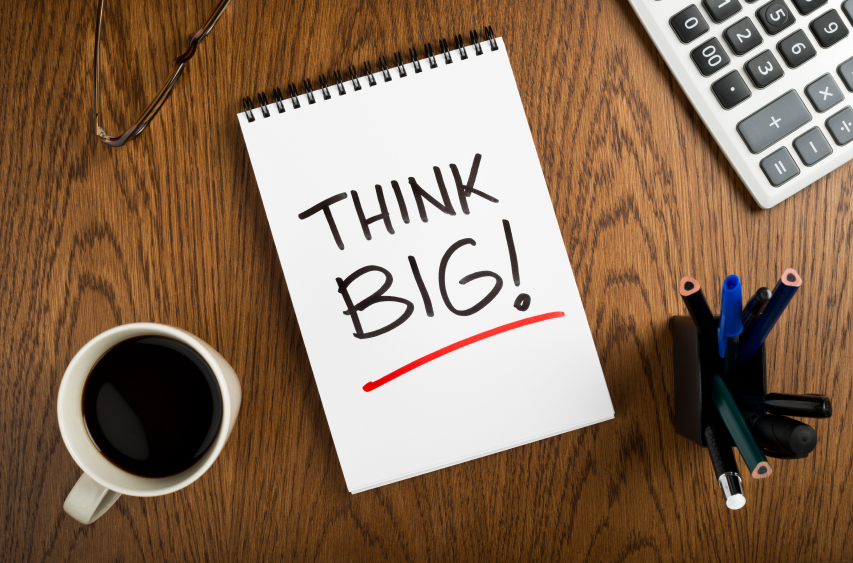 Recently I saw a video that inspired me to write down my giving goals. This little girl wants to make the world a better place by providing 500,000 chickens for the poor. That's a big goal for this little girl!
What's your BIG goal? Where do you start?
Truth from a trusted source; The Bible:
Now to him who is able to do immeasurably more than all we ask or imagine, according to his power that is at work within us.

Ephesians 3:20
Apply this truth even if you don't see that the Bible is the starting point. David Schwartz wrote, in 1959, a guide for you. It helps you learn and understand the habit of thinking and attaining BIG ideas and GREAT goals.
In the Magic of Thinking Big, Schwartz advises:
Believe you can succeed and you will.
Cure yourself of the fear of failure.
Build confidence and destroy fear.
Use goals to help you grow.
Think like a leader.
Make a commitment to read this book annually. It will help you define your unique purpose. You are unique in all the earth. Your BIG ideas are supported by your unique experiences, passions, vision, talents and skills. You can make the world a better place.
The book stresses self reliance, but as a Christian, I have become increasingly reliant on Jesus and God for my life and success. Remember, success is about becoming the total person God wants you to be and accomplishing the goals that He has set for your life. A friend, who was the president of a large Canadian company, likes to say of goals, "Do your best and leave the rest up to God."
Start thinking BIG. Don't settle for anything less than total obedience to God's prompting in your life and leave the rest up to Him.
Attitude:  What are your attitudes towards goal setting?
Action:  Order this resource to help you start thinking and setting BIG goals.
Question:   How will you make the world a better place? What are your big goals?
Resource:  The Magic of Thinking Big, David J. Schwartz